With the onset of the pandemic, potatoes boomed. Large tubers are also indispensable for promoting health.
Boiled, fried or steamed. Despised as a source of carbohydrates, potatoes have long been thought to make you fat. However, 100 g of potatoes contain only 70 kcal. It is more likely to be classified as low in calories. Rather, it is chips, french fries or fried potatoes.vegetables and thus affect our appearance. like "Potato Experts Association", Kartoffel Marketing Gesellschaft mbH (KMG) has made it their mission not only to improve the image of the potato, but also to establish itself as a health assistant.
Well-known home remedies for the cold season
that much Potatoes can do more than just warm a tummy. So, potatoes high vitamin C content. As a natural health helper, potatoes can be used to treat a variety of body ailments. Cold winter days often bring a cold and cause tension. A popular home remedy on Grandma's Day, warm potato wraps are amazing.. Dieter Tepel from KMG: "Potatoes are 80% water. So they are a particularly good heat storage agent. They release temperature slowly, so they are very suitable for warm wraps."
Potatoes are also very helpful for dry skin in winter. one can Beneficial Potato Mask with Honey and Olive Oil are being produced. Olive oil and honey provide additional moisture to the skin, but potatoes provide vitamins and minerals in addition to moisture. For digestive issues, potatoes can be used as part of a light diet.. This is because potatoes contain a lot of resistant starch. It reaches the large intestine undigested and becomes food for beneficial intestinal bacteria. Butyric acid is produced in the large intestine when resistant starch is broken down. This is what protects against intestinal inflammation. At the same time, it promotes a healthy gut flora in the body.
Immune Boosting Potato Soup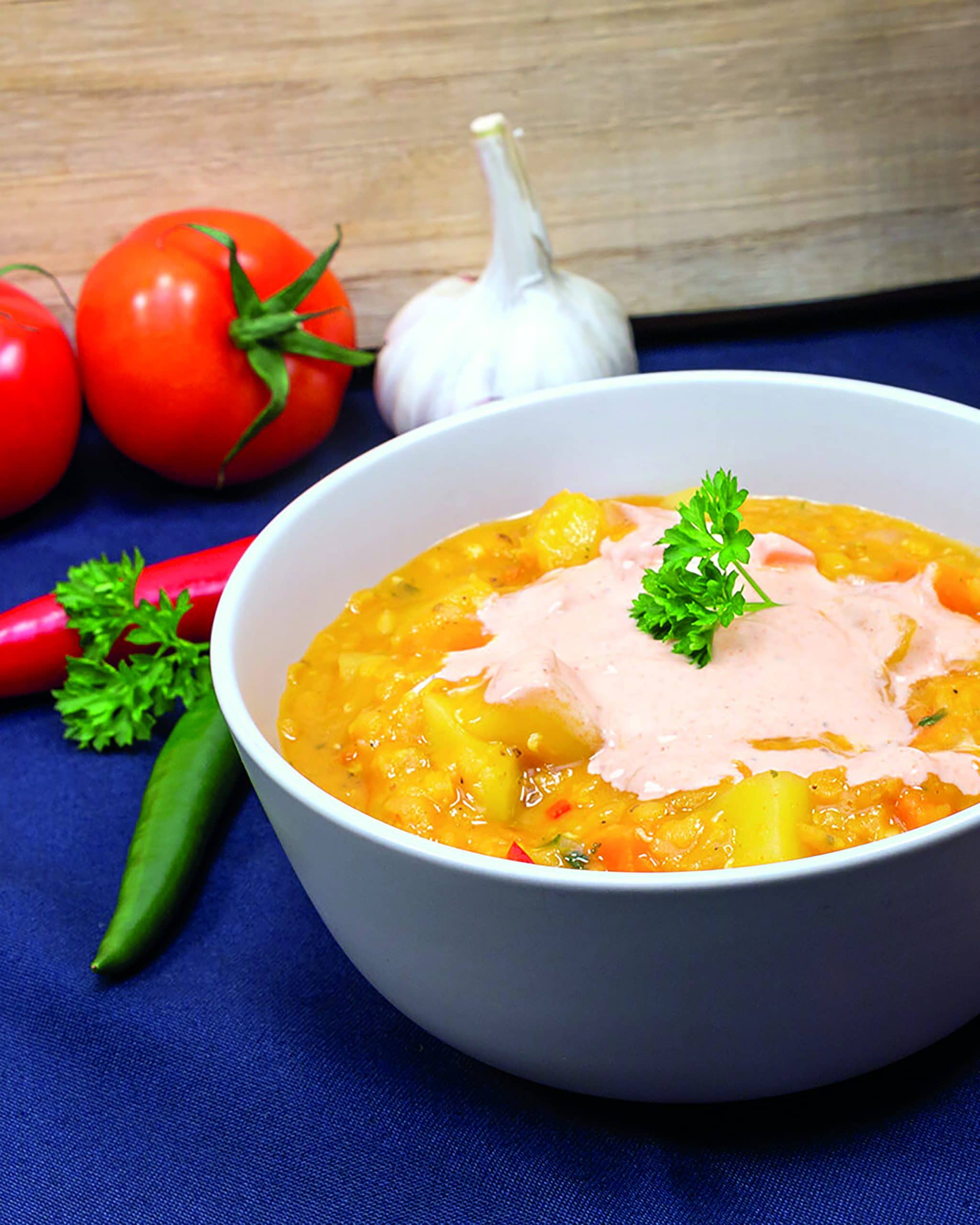 Potato and red lentil soup Photo: © KMG/die-kartoffel.de
Potatoes experience the absolute fulfillment of their existence as an ideal base for immune-boosting soups. How about one for example? Potato Lentils Soup Chili, garlic, lemon, tomato, fresh herbs? Well, have you tasted it? Anyone who wants to become one with potato fans can find recipes and explanations on how potato bags & co. are made on the internet.
ingredient:
150 g red lentils

300 g beeswax potatoes




250 g tomatoes




250 g carrots




½ red chili pepper




One

garlic cloves




1 red onion




1 tbsp butter




1 lemon




1 teaspoon sweet paprika powder




700ml vegetable broth




5 parsley




salt pepper
Yogurt Topping:
200g yogurt (10% fat)




1 lemon



salt, pepper, sweet paprika powder
taste


fresh parsley leaves for decoration
Ready:
soup:
Wash, peel and diced potatoes, carrots and tomatoes. Wash the cheongyang pepper thoroughly and cut it into cubes. Wash the parsley, pat dry and chop coarsely. Onion and garlic peel and finely chop. Sift the lentils and rinse the starch thoroughly under warm running water. The water should be clear all the way.
Melt a tablespoon of butter in a saucepan, add chopped onion and fry lightly. Add chopped tomatoes, chopped carrots, halved chili peppers, chopped garlic, chopped potatoes and washed red lentils. Then season with sweet paprika powder. Pour 700 milliliters of vegetable stock over everything. Boil the potato and red lentil soup for about 20 minutes. Finally, add chopped parsley, season the soup with a second lemon juice and salt and pepper, then serve the soup immediately with yogurt dip.
Yogurt Topping:
Squeeze the lemon and mix the juice and Greek yogurt. Season the yogurt with salt, pepper and sweet paprika.
Recipes for potato and red lentil soup are also available online, including video instructions. More delicious recipes and information and tips for potatoes can be found here. www.die-kartoffel.de.
DHB is also digital now!Click here and register for digital DHB!
source: Potato Marketing GmbH
text:
Bridget Clefish
/
craftssheet.de