Soup greens are the basis of soups and broths. It consists of carrots, celeriac and leeks. Find out what you need to know about vegetable packages here.
Soup Vegetables: Vegetables for All Kinds of Soups
Soup Greens always consist of three healthy ingredients:
carrot: Contains a lot of healthy beets. vitamin – Including several B vitamins, vitamin C and provitamin beta-carotene. They are also low in calories.
celery root: he is rich vitamin and fiber. It also contains essential oils that can facilitate digestion and prevent gas.
chives: I heard onionn and garlic It is widely used in daffodils. stew Used for winter cooking. The large amount of inulin contained in leeks is especially valuable. Dietary fiber is good for the intestinal flora. gut bacteria Nourishes and stimulates intestinal activity.
You can often even find a few stalks on soup greens. parsleyIt gives the soup a fresh and spicy taste.
Soup greens can be used in several ways.
You can make many delicious dishes with soup greens. especially of course vegetable broth. but you can also have one vegetable stock Cook and pour into jars. Making soup with these basic recipes is a breeze.
You can find more recipe ideas for soup greens here.
What to watch out for with soup herbs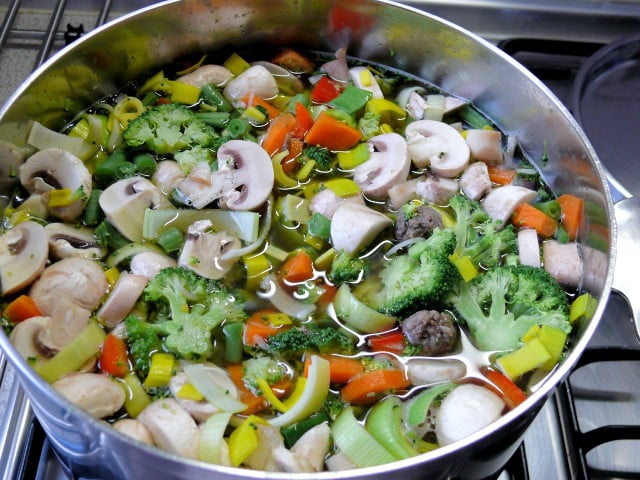 Of course, you can also combine the ingredients yourself and buy only what you need. But if you want a lot of soup greens, it's best to buy them from the market, ideally in organic quality. here you get local vegetables And mostly local farmers. Soup greens are almost always in unnecessary plastic packaging in supermarkets, so you can avoid them this way.
Vegetables are well stored in the refrigerator for no more than a week. Just put it in the vegetable compartment and wash it only when you want to use it.
Read more at Utopia.de:
** marked with ** or orange underline Some links to supply sources are affiliate links. By purchasing here, you are actively supporting Utopia.de. Because Utopia.de receives a portion of the proceeds from sales. More info.
Do you like this post?
Thanks for voting!