Tsampa is a flour specialty made from roasted grains and is considered a staple in Tibetan cuisine. Here you will find everything you need to know about the characteristics, nutritional value and preparation of sampas.
Tibetan sampa is a special type of flour made mainly from barley, sometimes rice or wheat. The grains are roasted before grinding, giving the ssampa a particularly fragrant and nutty flavor.
Traditionally in Tibet, ssampa is prepared as a grain porridge by mixing it with butter tea or other hot liquid. It's a quick, easy and space-saving meal that's popular with Sherpas from Nepal, for example. Due to previous roasting, the grain is already fully ripe and no longer needs to be made edible by prolonged cooking or baking.
Tsampa: the most important nutritional value
Like all grain products, ssampas are high in carbohydrates and fiber. So it is not only uncomplicated to transport and prepare, but also keeps you full for a long time. 100g of Ssampa has about 349 kilocalories. It also has, on average, the following nutritional values:
Fat: 3.3 g (0.8 g medium) saturated fat)
Carbohydrates: 59.8 (of which 1.4 g sugar)
Fiber: 15.2g
Protein/egg white: 12.3 g
Salt: 0.004g
Buying Tsampa: Beware of this.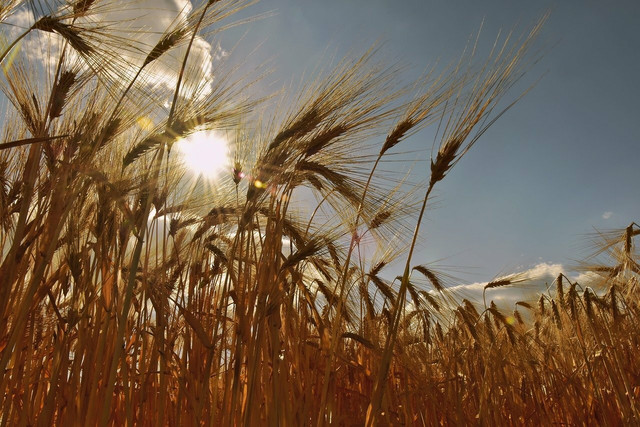 Ssampas are less common in this country than their country of origin, but are now also available in some organic and health food stores. If barley flour is not available in your area, there are various offers online. for example food**. For example, it is best to buy organic quality sampas with a seal. Demeter. This way you can be sure that the product is environmentally friendly, free from synthetic pesticides.
Ssampa is a Tibetan specialty, but can easily be made from local barley using the same roasting process. So pay close attention local originTo avoid unnecessarily long and CO2-intensive transport routes.
Recipe: Sampa with Butter Tea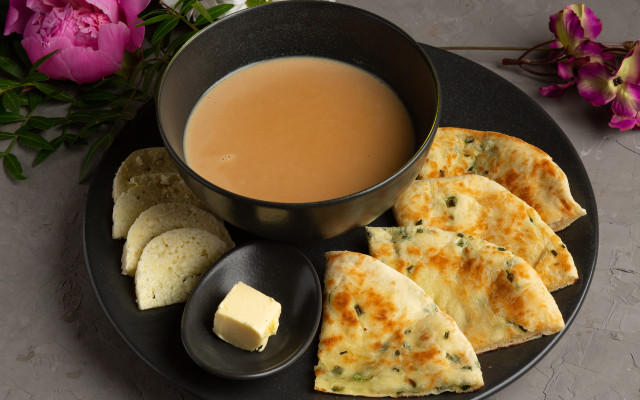 Sampa with Butter Tea
Ready: about 15 minutes
crowd: 2 servings
ingredient:
500ml




water

2 teaspoons




Loose black tea (or bag)

2 tablespoons




Butter or Vegan Margarine

One




a pinch of salt




(vegetable) milk or cream (according to taste)

150g




sampa
Ready
First prepare the butter tea. To do this, boil the water and soak the loose black tea for 3 minutes.

Strain the brewed tea into a heat-resistant container and add butter or vegan margarine, a little salt and a little (vegetable) milk or cream if desired.

Cream the butter tea by hand or with a blender. Set aside for about 12 ounces of tea and use the rest to make sampas.

Prepare two bowls and add 100ml butter tea to each bowl. Then divide the sampa evenly into the two bowls and sprinkle slowly with stirring until the mixture thickens.

Divide the remaining butter tea into two cups and serve with sampa.

tip: The tea in the cup should be stirred briefly before taking a new sip. This will prevent the butter from sinking to the surface.
Possible variants for tsampa
In addition to traditional preparations, tsampa can also be used in other ways.
For example, Tsampa is suitable as an aromatic additive. home made porridge Or a breakfast bowl.
Instead of tea, you can add a hot liquid such as milk or vegetable milk to barley flour and refine it with fruit, berries or honey.
In addition barley soup You can prepare it with ssampa.
If you add less water, the ssampa will be much firmer and will work well as a base. homemade energy ball.
Read more at Utopia.de:
** marked with ** or orange underline Some links to supply sources are affiliate links. By purchasing here, you are actively supporting Utopia.de. Because Utopia.de receives a portion of the proceeds from sales. More info.
Do you like this post?
Thanks for voting!