Vegetable Soup with Pesto – Recipe from Eckart Witzigmann, who likes to buy fresh ingredients at Viktualienmarkt in Munich.
Chef of the Century, Eckart Witzigmann is committed to sustainable food production and healthy nutrition. Together with the Witzigmann Academy and the Munich Oncology Center (TZM), he developed the "HealthFood" cooking app for oncology patients. With an ever-growing archive of recipes, the app also targets healthy people. After all, everyone should eat a balanced diet.
The app is available for free on the App Store and Google Play.
Dr. Dr. Read the interview with the professor. Volkmar Nüssler, Head of TZM: Healthy nutrition is simple.
The recipes in the app are checked by nutritionist Veronika Flöter, who oversees the TZM Nutrition Counseling Center. Eckart Witzigmann's vegetable soup has passed this test after using all the fresh products using valuable ingredients.
Why Vegetable Soup is Healthy
Due to its high proportions of various vegetables and legumes, this soup provides protein and fiber, as well as numerous vitamins, minerals and trace elements. Scientific studies show that eating vegetables and fiber improves health and reduces the risk of cardiovascular disease and cancer. Dietary fiber promotes digestion. Increasing your intake, drinking plenty of fluids, and getting enough exercise can help relieve constipation symptoms.
Recipe: Vegetable Soup by Eckart Witzigmann
Ingredients (for 4 servings)
2 cloves of garlic
6 tablespoons frying oil
1 small bunch of basil
1 tbsp parmesan cheese
1 medium onion (60 g)
4 tablespoons butter (80 g)
1 small potato (40 g)
1 small carrot (50 g)
1 small turnip (50 g)
1 leek (50g)
1 tomato (50g)
1 handful spinach or chard
1 stick of celery (40g)
1 bouquet garni (fresh parsley, thyme, laurel bunch)
600ml vegetable broth (see below for ingredients and preparations)
mung bean 50g
50 g frozen peas
1 small pumpkin (40 g pumpkin)
salt pepper
Vegetable Broth:
1 large onion
2 large shallots or 4 small shallots
2 thick green onions (350 g)
2 carrots
100 g celery
1 large bulb of fennel (250 g)
200g oyster mushroom or oyster mushroom
3 tablespoons olive oil
3 cloves of garlic
1.5 liters of water
2 bay leaves
6 flat parsley with herbs
3 cloves
1 tbsp sea salt
15 white pepper
The corresponding pesto recipe can be found here.
Tips from Eckart Witzigmann: Cook slowly!

Tips for quantity and shelf life: Store in the refrigerator for several days. can freeze.
Preparation of vegetable soup (preparation time: 90 minutes):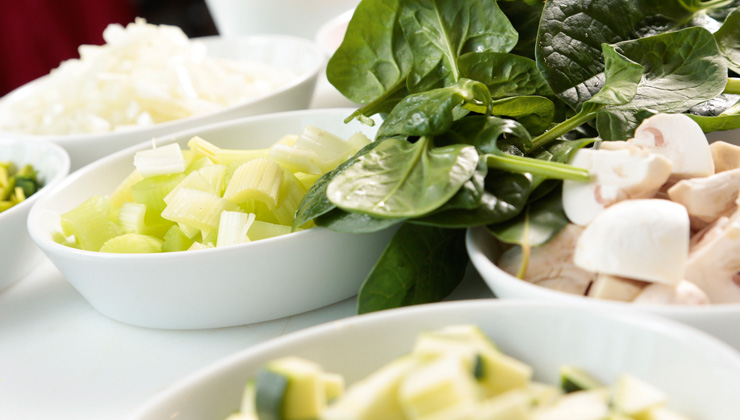 Peel the onion and shallots. Groom the green onions and wash them carefully. Wash carrots, celery and fennel thoroughly. Don't cut everything into too small pieces. Clean the mushrooms. Lightly fry the onion and shallot in oil sweat.
Add the leeks, carrots, celery, fennel, mushrooms and minced garlic without peeling. Fill the pot with water.
Add bay leaves, parsley stalks (tied in advance with kitchen twine), cloves, and sea salt and bring everything to a boil. Boil gently for 20 minutes. Turn off the heat, add black pepper and boil for 20 minutes. let go. Pour everything through a sieve and press lightly.
Cut all vegetables into small cubes. Finely chop the spinach, and finely mince 1 clove of garlic. Fry the onion and garlic in 3 tablespoons of oil and butter until translucent stew. Add potatoes, carrots, turnips, leeks, tomatoes, celery and bouquet garni and pour over vegetable stock.
with salt and pepper to taste. Boil everything gently for 20 minutes. Cook the beans separately until soft. Blanch the peas separately in boiling water and add them with beans, spinach and diced zucchini just before cooking time is over.
Remove the bouquet garni, season the soup again with pepper and salt and mix the pesto (see recipe) with the soup.
Bon appetite!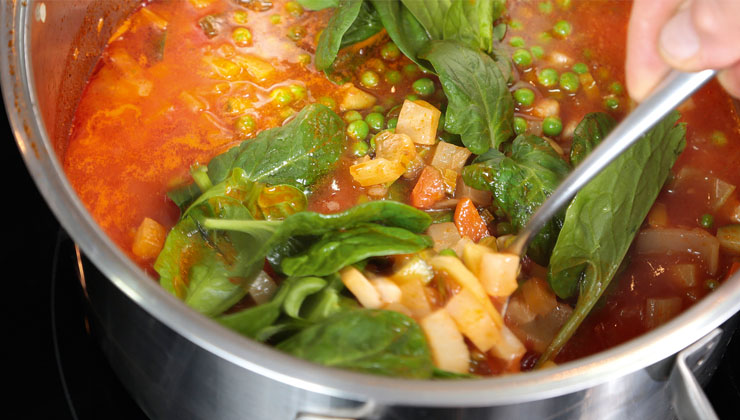 The nutritional value per serving (about 324g) is roughly as follows.
345 kcal of energy
5 g protein
33 g fat
5g dietary fiber